010-19000-XX REMOTE REGULATOR w/ BYPASS FITTING
| | |
| --- | --- |
| | Remote regulator is fitted with a -10 bypass fitting. Line fittings are available in -08, -10 and -12. Please select the desired fitting size below. Regulators are supplied with a standard pressure relief spring installed (up to 90 psi) and a high pressure relief spring is included (90+ psi). |
Please choose your fitting...
Price: $124.96
SKU# 010-19000-XX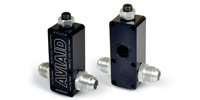 010-19202-XX REMOTE REGULATOR w/ REAR BYPASS PORT
| | |
| --- | --- |
| | Remote regulator is fitted with a rear O-ringed bypass port for mounting directly to a flat surface any bypassing without a return line. Typical mounting can be to a valve cover, an oil pan or an oil tank. Bypassed oil is relieved directly back into the engine oil system. Line fittings are available in -08, -10 and -12. Please select the desired fitting size below. Regulators are supplied with a standard pressure relief spring installed (up to 90 psi) and a high pressure relief spring is included (90+ psi).s. |
Please choose your fitting...
Price: $124.96
SKU# 010-19202-XX